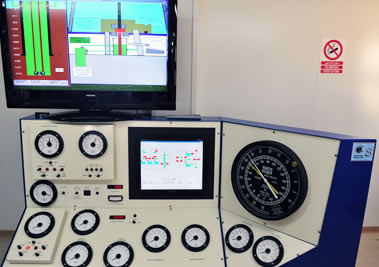 Training Center
Evaluation and certification
---
To comply with the requirements of oil drilling operations, the Training Centre provides training on a drilling rig simulator for engineers, superintendents, supervisors, site managers, and postmasters of international oil companies who wish to obtain IWCF (International Well Control Forum) Surface BOP Stack Certification, which is exclusively issued by the RedMed Group.
Contact Tel : 029 74 90 48 / 0770 50 26 23
E-Mail : training@redmed-group.com
---
Training courses are intended for project managers and drilling companies, as well as service companies in close collaboration with drilling companies.
The Training Centre's programme includes courses on: the identification of kick causes, extension, drilling safety methods, and equipment set up.
The Training Centre deliver IWCF courses under two possibilities:
Presential Mode ( Face to Face )
Virtual Mode
The Training Centre has three classrooms provided with modern facilities:
Data Show and Smart Board
Two simulation rooms equipped with a Full Size DS 20 - FS/D Simulator
A simulation room equipped with a portable ultra light DP WS - 22 UL Simulator
The supervisory staff is composed of industry experts and professionals with a great deal of experience in the field.
The courses are offered in French and English.
The Training Centre is accridited by two independent organisms certifying body for the following activities:
Certification IWCF ( Well Control Level 2, 3 & 4 ) Rotary Drilling.

Certification IWCF ( Well Intervention, Level 2,3 & 4 ) three options ( Coiled Tubing, Wireline, Snubbing )

Certification IADC ( Well Sharp Program , Drilling Operation , Driller / Supervisor )..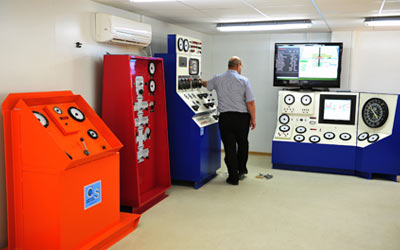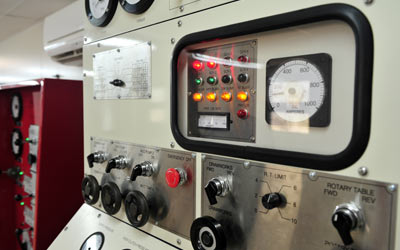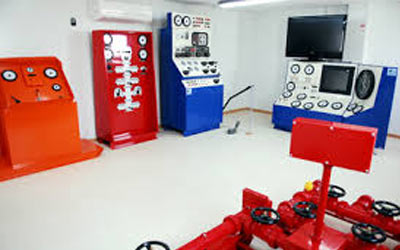 ---
The Training Center welcomes applicants from countries of 4 continents :
Africa: Gabon, Nigeria
Europe : France, Portugal, Italy, Netherlands, Malta, Russia
Asia: Thailand, Viet Nam, Malaysia.
America : USA and Canada.
The Middle East Region: Jordan, Iraq, Tunisia, Libya, Yemen, Palestine, Syria.
Qualification and certification The Training Center offers trainings for Oil companies working in Algeria and abroad. Certification International Certification International Well.
---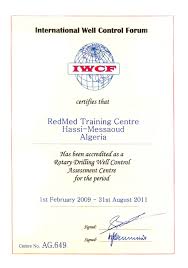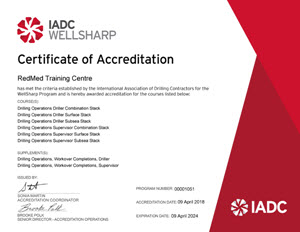 Qualification et certification
DRILLING Drilling (Oil – Gas) Drilling (Water) Work Over Drilling Fluids Special Operations PRODUCTION Completion Wire Line Snubbing Coiled Tubing Pumping Well Testing
---
The Training Center offers trainings for Oil companies working in Algeria and abroad.
SONATRACH ( ENAFOR – ENSP – ENTP – BJSP ) –HALLIBURTON – SCHLUMBERGER – SAIPEM – NABORS – KCA DEUTAG - WEATHERFORD – DALMA ENERGY – JOHN ENERGY – PARKER– ASSOCIATION SONATRACH / GROUPEMENT BIR SEBA– ASSOCIATION SONATRACH / GROUPEMENT BERKINE – ASSOCIATION SONATRACH / BP/ STATOIL - ASSOCIATION SONATRACH IN SALAH/ GAS – BAKER HUGHES – E N I - EXPRO GULF – TRICAN– E.ON –B M S – AVA ALGERIE – MI SWACO – ASSOCIATION SONATRACH/SONAHESS EL GASSI.
---
Certification International
Well Control Drilling (I W C F) :
Test on Simulator
Written Test on Equipment
Written Test on Principles and Procedure
Certification International Well
Intervention Production (IWCF)
Written Test on Snubbing
Written Test on Wire Line
Written Test on Coiled Tubing